Right before we had our second baby, I purchased these ever so popular Aden + Anais muslin swaddle blankets. I loved their sleeping bags for E, but had never used their blankets before. Excited to try them out, I washed them right away in preparation for the baby.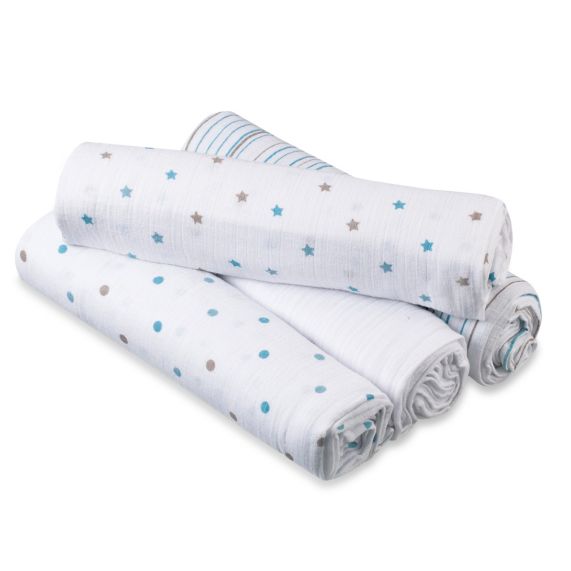 Coming out of the package, the blankets were as I expected - super soft and lovely. However, after the first wash, I noticed that they got really stiff and rough. The solid white one without any designs was ok, but the rest were kind of disappointing. The striped one was the worst.
Not wanting to give up on them yet, I decided to wash them a few more times to see if they'd soften. I used regular laundry detergent (Tide) and dried them on low heat. A
fter the fourth or fifth time, I noticed them slightly softening however not as soft as when I first bought them.
Besides the texture, the blankets also seemed too thick for summer swaddling here in Texas. Every night the baby always woke up in a huge sweat. No matter how little I tried to layer the swaddling, he'd start sweating after half an hour and I'd find the layers beneath him completely damp.
Not sure if I was just washing these blankets wrong or not caring for them properly, I contacted Aden and Anais. They immediately replied and apologized for my negative experience and wanted to send me a replacement. A few weeks later, these adorable bamboo blankets showed up at my door!
I know they're just blankets, but this bamboo version has got to be THE softest and most luxurious blankets ever! Straight out of the package, they were bigger and a lot lighter and silkier than the original classic A+A blankets. After I washed them the first time, they remained just as soft and silky as before! Although our baby still sweats a little in these, they're a lot better than the classic ones.
T
he ones from this bamboo collection were made from
100% rayon
from bamboo fiber muslin and
measured at 47" x 47". The ones from the
classic collection
were made from 100% cotton muslin and
measured at
44" x 44".
So would I recommend these? A hundred times YES! Even though these ones from the bamboo collection are more expensive (around $10 dollars more), they're completely worth it for the amazing quality and functionality. We've been using and taking them everywhere with us.
Thank you, Aden and Anais, for standing by your products and giving me a second chance to try out these wonderful blankets!
Disclaimer: I was not compensated in any way to share my experiences with these blankets. I'm just so happy with them that I wanted to share with you all too!